Hot on the heels of the German book is the Soviet Vehicle Compendium. The British and US Vehicle Compendium will follow soon. These are written and reviewed but otherwise on hold.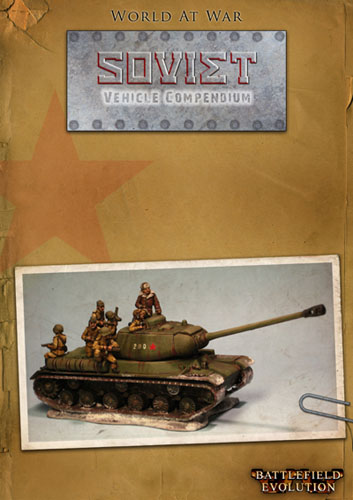 The book - a pdf only version - is your comprehensive guide to using Soviet Armoured Fighting Vehicles in Battlefield Evolution: World at War.
You get a full colour version with many high quality pictures of fully painted models. In addition a text only printer friendly version is also included.
The book provides new Traits (like Double Suppression, Recon and Unreliable vehicles) an AFV force list, options to use captured equipment and an extended Soviet armoury to add to your games of World at War.
All vehicles in this book are consistent with existing vehicles in the Battlefield Evolution: World at War rule book also written by me.
And – the beef of the book – stats for almost every Soviet WW II vehicle:
BA-6 Light Armoured Car
BA-10 Scout Car
BA-10 M Scout Car
BA-64 Scout Car
SU-76 Tank Destroyer
SU-85 Assault Gun
SU-100 Assault Gun
SU-122 Assault Gun
ISU-122 Assault Gun
ISU-122S Assault Gun
ISU-152 Assault Gun
BT-2 Light Tank
BT-5 Light Tank
BT-7 Light Tank
BT-7A Light Tank
Iosif Stalin 1 Tank
Iosif Stalin 2 Tank
Iosif Stalin 3 Tank
KV-1 Model 1939 Heavy Tank
KV-1 Model 1940 (KV-1A) Heavy Tank
KV-1E Model 1940 / KV-1B 1941 Heavy Tank
KV-1C Heavy Tank
KV-1S Heavy Tank
KV-2 Heavy Tank
KV-8 / OT-KV Heavy Tank
KV-85 Heavy Tank
OT-133/ OT-26S Light Flamethrower Tank
OT-34 Flamethrower Tank
OT-7 Light Flamethrower Tank
T-26 Light Tank
T-28 Tank
T-34 Tank
T-34/40 Model 76 A Tank
T-34/85 Tank
T-35 Heavy Tank
T-50 Light Tank
T-60 Light Tank
T-60 M1942 Light Tank
T-70 Light Tank
GAZ-64/67
Heavy, Light and Medium Truck
Lend-Lease Vehicles
Churchill III/IV Infantry Tank
M3 General Lee Medium Tank
M3 Halftrack
M3A1 Stuart Light Tank
M4 Sherman Medium Tank
M10 Tank Destroyer
Matilda II Infantry tank
Valentine III/ IV/ V Infantry Tank
All in all over 50 vehicles are covered and many options are provided to create additional variants. Just check the German book to get a feeling.

Below are some sample pages that show the layout.

A sample unit card:

Some additional pictures of the book: