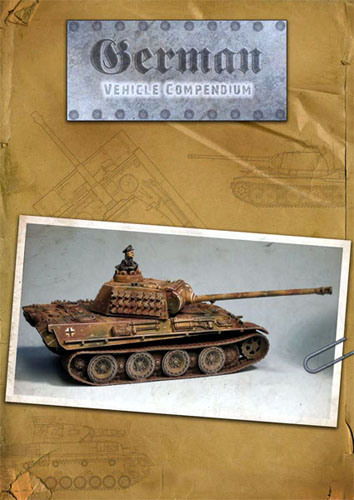 The 1st book that is published under the Logo License is the:
World at War: German Vehicle Compendium.
The book - a pdf only version - is your comprehensive guide to using German Armoured Fighting Vehicles in Battlefield Evolution: World at War.
You get a full colour version with many high quality pictures of fully painted models in 1/72 and 28mm scale. In addition a text only printer friendly version is also included.
The book provides new Traits (like Double Suppression, Recon, Stabilized guns, Unreliable vehicles and Zimmerit), an AFV force list, options to use captured equipment and an extended German armoury to add to your games of World at War.
All vehicles in this book are consistent with existing vehicles in the Battlefield Evolution: World at War rulebook also written by me.
And – the beef of the book – stats for almost every German WW II vehicle:
SDKFZ 221 PANZERSPAEHWAGEN
SDKFZ 222 PANZERSPAEHWAGEN
SDKFZ 231/232 8 RAD PANZERSPAEHWAGEN
SDKFZ 233 8 RAD PANZERSPAEHWAGEN
SDKFZ 234/1 8 RAD PANZERSPAEHWAGEN
SDKFZ 234/2 8 RAD PANZERSPAEHWAGEN PUMA
SDKFZ 234/3 8 RAD PANZERSPAEHWAGEN
SDKFZ 234/4 8 RAD PANZERSPAEHWAGEN
GRILLE SUPPORT GUN
HUMMEL
STURMGESCHUETZ STUG III AUSFUEHRUNG A ASSAULT GUN
STURMGESCHUETZ STUG III AUSFUEHRUNG B/C/D/E ASSAULT GUN
STURMGESCHUETZ STUG III AUSFUEHRUNG F ASSAULT GUN
STURMGESCHUETZ STUG III AUSFUEHRUNG G ASSAULT GUN
STURMGESCHUETZ STUG IV ASSAULT GUN
STURMHAUBITZE STUH 42 SUPPORT GUN
STURMPANZER IV BRUMMBAER
WESPE
SDKFZ 250/7 NEU MORTAR HALFTRACK
SDKFZ 250/8 NEU 'STUMMEL' HALFTRACK
SDKFZ 250/9 NEU HALFTRACK
SDKFZ 251/9 STUMMEL HALFTRACK
SDKFZ 251/13-15; 251/18 ARTILLERY SPOTTING HALFTRACK
SDKFZ 251/16 FLAMETHROWER HALFTRACK
SDKFZ 251/22 AT GUN HALFTRACK
PANZER 35T TANK
PANZER 38T TANK
PANZER 38T TANK UP ARMOURED
PZKPFW I AUSFUEHRUNG A/B TANK
PZKPFW I AUSFUEHRUNG C TANK
PZKPFW II AUSFUEHRUNG A/B/C TANK
PZKPFW II AUSFUEHRUNG D/E/F TANK
PZKPFW II FLAMMPANZER "FLAMINGO" FLAMETHROWER TANK
PZKPFW II AUSFUEHRUNG L TANK
PZKPFW III AUSFUEHRUNG A/B/C TANK
PZKPFW III AUSFUEHRUNG E/F/G TANK
PZKPFW III AUSFUEHRUNG H TANK
PZKPFW III AUSFUEHRUNG J TANK
PZKPFW III AUSFUEHRUNG L/M TANK
PZKPFW III AUSFUEHRUNG N TANK
PZKPFW IV AUSFUEHRUNG A TANK
PPZKPFW IV AUSFUEHRUNG B/C TANK
PZKPFW IV AUSFUEHRUNG D TANK
PZKPFW IV AUSFUEHRUNG F TANK
PZKPFW IV AUSFUEHRUNG F2 TANK
PZKPFW IV AUSFUEHRUNG G TANK
PZKMPF IV AUSFUEHRUNG H TANK
PZKPFW V PANTHER AUSFUEHRUNG A/D/G TANK
PZKPFW VI TIGER I AUSFUEHRUNG E TANK
PZKPFW VI TIGER II KOENIGSTIGER TANK
PZKPFW VIII MAUS SUPERHEAVY TANK
ELEFANT (FERDINAND) TANKDESTROYER
JAGDPANZER 38 HETZER TANKDESTROYER
JAGDPANZER IV /48 TANKDESTROYER
JAGDPANZER IV /70 TANKDESTROYER
JAGDPANZER V JAGDPANTHER TANKDESTROYER
JAGDTIGER TANKDESTROYER
MARDER I TANKDESTROYER
MARDER II TANKDESTROYER
MARDER III AUSFUEHRUNG H TANKDESTROYER
MARDER III AUSFUEHRUNG M TANKDESTROYER
NASHORN TANKDESTROYER
PANZERJAEGER I TANKHUNTER
HEAVY TRUCK
KUEBELWAGEN
LIGHT TRUCK
MEDIUM TRUCK
SDKFZ 6 MEDIUM HALFTRACK
SDKFZ 7 HEAVY HALFTRACK
SDKFZ 10 LIGHT HALFTRACK
SDKFZ 250/1 HALFTRACK
SDKFZ 251/1 HALFTRACK
SDKFZ 251/7 PIONIER HALFTRACK
SDKFZ 251/10 HALFTRACK
All in all over 80 vehicles are covered and many options are provided to create additional variants. Just check the Sherman article in Signs and Portents 62 to get a feeling.

Below are two sample pages that show the layout.


The deal will also include all the unit cards to field these vehicles conveniently on the tabletop.

Dave even came up with the cool idea to provide upgrade cards.