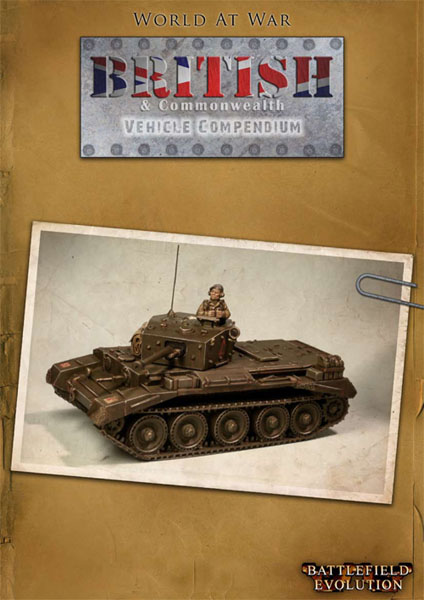 Our 3rd book is the British and Commonwealth Vehicle Compendium. The US Vehicle Compendium and the Chinese Army Compendium will follow soon. The book follows the same pattern as our previous publications - a pdf only version - and the comprehensive guide to using British and Commonwealth Armoured Fighting Vehicles in Battlefield Evolution: World at War.
All vehicles in this book are consistent with existing vehicles in the Battlefield Evolution: World at War rule book also written by me.
This book covers over 60 additional or updated vehicles for your British and Commonwealth forces from all theatres and periods of World War II!
Included are:
AEC Armoured Car

Daimler Armoured Car

Daimler Dingo Scout Car

Humber Armoured Car

Humber Light Armoured Car

Humber Scout Car

Marmon Herrington Armoured Car

Staghound Armoured Car
Centurion I (A41-Besa and Polsten)

Challenger (A30)

Comet (A34)

Cromwell Mk I Cruiser Tank Mk VIII (A27ML)

Cromwell Mk IV, V

Cromwell Mk VII

Cruiser Tank Mk I (A9 )

Cruiser Tank Mk II (A )

Cruiser Tank Mk III (A13)

Cruiser Tank Mk IV (A13 Mk II)

Cruiser Tank Mark VIII Centaur (A27L)

Crusader I Cruiser Tank Mk VI (A15)

Crusader II Cruiser Tank Mk VIA

Crusader III

M3 General Lee / Grant Medium Tank

Ram Mk II

Sentinel Mk I

Sherman I, II, III, V

Sherman II / III A

Sherman I / II B

Sherman IC / VC "Firefly"
Churchill I Infantry Tank

Churchill III/IV Infantry Tank

Churchill VII Infantry Tank

Matilda I Infantry tank

Matilda II Infantry tank

Valentine I/ III/ IV/ V Infantry Tank

Valentine VIII/ IX Infantry Tank

Valentine X Infantry Tank
2 pdr. Portee

6 pdr. Portee

Bishop

Deacon

Priest

Sexton
Bren Carrier

Heavy Truck

Jeep

Light Truck

M3 Halftrack

Medium Truck

Priest Kangaroo

Ram Kangaroo
The book also provides new Traits, an AFV force list, options to use captured equipment and an extended British and Commonwealth armoury to add to your games of World at War. As with the German and Soviet Vehicle Compendium you will get in fact 3 books with this deal:
a full colour version with many high quality pictures of fully painted models

in addition a B&W text only printer friendly version

and all the unit cards to field these vehicles conveniently on the tabletop.