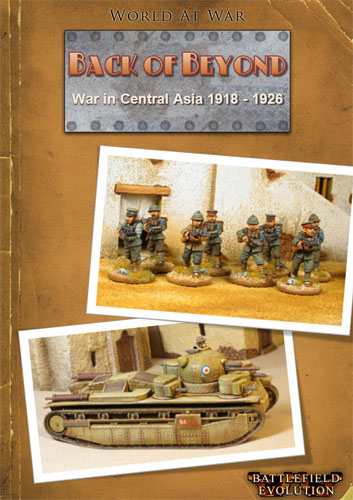 World at War: Back of Beyond is the Battlefield Evolution: World at War supplement covering the Interwar period armies of Central Asia!
The book includes new traits (Grenades, Weak AA) to give you the "interwar feel" and covers all the traits you need to play with the units of this book.
The following army lists are in this book:
Stats for the many vehicles such as Rolls-Royce Armoured Car, Lancaster 4x2 Armoured Car, Austin Armoured Car, Austin-Putilov Armoured Car, Austin-Kégresse Halftrack, Medium Mark C Tank, Vickers Medium Mk I Tank, Renault FT-17, Vickers Medium Mk II, Mk III and A1E1 Independent Tank are also included.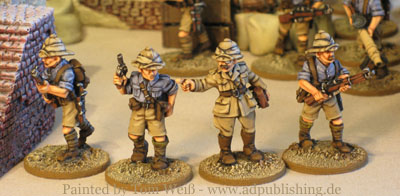 The "Larger than life Characters and eccentric Equipment" section introduces special characters for all the army lists to give you even more options. Beware - some of these characters are indeed larger than life, they extend the game into a pulpier setting, away from the historical one. You are getting rules to field an Aristocratic Adventurer, the Arms Dealer, the Artillery Officer, a retired Big Game Hunter, a Communist Demagogue, a European Spy, the Female Adventurer and Scholar, the Foreign Bodyguard and Mortar Supplier, German Mercenaries, the Heroic Scout, the Independent Journalist, Mongol Princess and Shaman, a Pilot Ace and even the Tibetan Lama with a Yeti!

All units in this book are designed by the same principles as the existing vehicles in the Battlefield Evolution: World at War rulebook and Battlefield Evolution: Pacific War Supplement also written by Agis Neugebauer.

This book requires the use of Battlefield Evolution: World at War, available from Mongoose Publishing.

Preview Page of the Historical setting

Preview Page of the British Army list

Preview Page of the "Larger than Life..." section

Preview Page of another "Larger than Life..." section

Preview Page of the "Larger than Life..." Arms Dealer section

The Big Game Hunter - Ironclad Miniatures

The Independent Journalist - Copplestone Casting

Vickers Independent - Copplestone Miniatures

Tank by Copplestone, Cavalry by Old Glory

1/63 Diecast Sopwith Camel, Pilot by Copplestone

1/48 Austin Putilov by Sloppy Jaloppy, bit big but still way cool...

The shady Army Dealer before his Motor Pool...

A Rolls Royce Armoured Car - Copplestone Casting

British Regulars - Copplestone Casting