Our 5th book is the Chinese Army Compendium.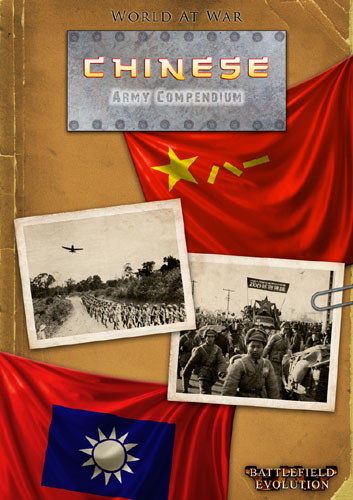 The Chinese Army Compendium is your comprehensive guide to using Chinese armies in Battlefield Evolution: World at War. The Chinese role and importance in World War II is often overlooked or misjudged by western wargamers and even historians. For China World War II has a rather different meaning then that in the rest of the world.
Interestingly enough in China, no one talks about the Second World War; instead people talk about the Anti-Japanese War. This book covers the Chinese armed forces of the War against the Imperial Japanese Army from 1937 to 1945; be it Kuomintang forces (Chinese National Revolutionary Party) or Mao Tse-tung's People Liberation Army.
Included are the following army lists:
1937 – 1938 Nanking National Revolutionary Army

1937 – 1941 Soviet Advised National Revolutionary Army

1942 – 1943 National Revolutionary Army

1944 – 1945 Late War Chinese US equipped X and Y-Forces

1937 – 1945 Chinese Red Army Guerrilla Forces
The book also provides new Traits, Modified Advanced Rules and options to use captured equipment to add to your games of World at War. Stats for the following vehicle and air units are also included:
BA-10 Scout Car

BA-6 Light Armoured Car

Bren Carrier

FT-17

L3/33 Tankette

M24 Chaffee Light Tank

M3 Halftrack

M3A1 White Scout Car

M3A3 Stuart Light Tank

M4A4 Sherman Tank

PzKpfw I Ausführung A Tank

SdKfz 221 Panzerspähwagen

SdKfz 222 Panzerspähwagen

T-26 Light Tank

Vickers 6-Ton Mk E Type B
Air Assets
Curtiss P-40 Warhawk

Polikarpov I-16
All infantry and vehicle units in this book are consistent with existing units in the Battlefield Evolution: World at War rulebook also written by Agis Neugebauer.
This book requires the use of Battlefield Evolution: World at War, available from Mongoose Publishing.