FAITH - A Garden in Hell

"FAITH is a role playing game in a sci-fi setting, where starfaring alien civilisations race to explore a dangerous, unknown universe.

The FAITH campaign is one of valiant space travellers, remote uncharted stars and bizarre alien technology. But it's also a realm of mysterious, invisible forces – the Gods and the outlandish, supernatural powers they grant to those mortals who believe in them.

In FAITH, you can be a star explorer, a soldier, a scoundrel or a mystic believer, using a mix of technology, training and God-given powers to survive the untamed regions of wild space against rival factions, alien perils and ruthless bandits." from the current FAITH Kickstarter. I backed their A Garden in Hell KS and really liked what I got!

Show here is my 1st FAITH mini, actually the only FAITH mini available so far. It was a Kickstarter Add On from the former A Garden in Hell KS. A very crisp and nice resin mini.

Their current KS is featuring 8 minis, 4 of each gender of the main races in FAITH.

And the always welcome comparison pics:

Prodos Alien, Burning Games Corvo "Skid", Prodos CM

Corvus Belli Infinity Batman conversion, Burning Games Corvo "Skid", Endure the Stars robot

Afterlife - Miniature Game

AFTERLIFE is the new Sci-Fi skirmish game system of Anvil Industries, supported by an expanding range of extremely high quality resin miniatures. Further extensive background information can be found on their Game website www.afterlifevolumes.com

Anvil Industries were formerly known for their extensive range of 28 mm heroic conversion parts. I used many of their parts over the last years and decided to participate in their latest Kickstarter. One of the best KS experiences so far. The minis are simply GREAT! I wish that the minis of Imperial Assault, Zombicide etc. would be of that quality.
Show here are my 1st Afterlife minis, the Republic Commando Assault Specialists. I will use them as near future SWAT men.

Commando Assault Specialists are tasked with the most dangerous Urban combat tasks. They have thicker armour, heavy assault shields and dedicated weapons for forcing a breach into fortified and well defended enemy positions.

Another good use of the incredible nice minis - stand in for a Martian Marine from the Expanse!

My take on Bobby Draper from The Expanse. She is introduced in the 2nd book and the 1st episode of the 2nd TV season. An instant crowd favourite. The Anvil Industries Republic Pulse Mech is IMO the perfect look for MMC Goliath Power Armour.

White Dragon

White Dragon are currently running their Shattered Void KS, when ordering the Bravo Fire Team below I also received the above fighter. I was not even aware that this was an AI Astivar Jakron Interceptor from the current Shattered Void KS!

An incredible good miniature, well in scale with X-Wing! And since I am painting so much Aliens these days, I just could not resist and "Alienesque" void hardened front glossy black...

White Dragon Minis offer some really good 15mm minis. The above are the 15mm (MTU) Bravo Fire Team, very good designs and flawlessly cast by Prodos.

And some always usdeful comparison shots...

Komodo Suit

Antenocitis incredible Komodo Suits are going to support my Sedition War Republic force. Consequently I chose a fitting colour palette. In addition more weathering was applied since these suits are supposed to be always in the thick of it. IMO the miniature works really nicely together with the Sedition War minis.

Sedition War minis together with Antenocitis Komodo, decals by DP9

Best thing IMO is the versatility of the model, it looks good even besides 15mm minis as you can see below.

GZG New Israeli minis together with Antenocitis Komodo

Sedition Wars

I pledged last year on the Sedition Wars KS. Some weeks ago the 1st batch arrived and - to be honest - I was deeply disappointed by the quality of the minis. The PVC was appalling and huge mold lines were visible all over. But since I am not a guy who easily gives up I scratched, reshaped and primed the minis. AND - after a good coat of white priming the minis was even easier to handle, the mold lines became more visible and I was able to get a decent finish. In fact, the more I painted the more I liked them!!!

The above mini in the centre is a female Sedition War trooper flanked by some Infinity Star Wars conversions. The goal was to create some Old Republic or New Republic trooper, worked for me.

Four troopers and a slightly modified Infinity PanO "Jedi".

More shots of the Infinity PanO "Jedi".

Two more troopers out of the box. Only the helmet visor is painted in a different style to create a "Clone Trooper" look.

One more trooper out of the box. No modifications this time!

"Ramirez". No modifications this time!

"Ramirez" with other troopers.

Grenade and Pulse Specialist Trooper.

5 Necro-form Revenants out of the box. Again no conversion work this time! I really liked how fast and simple they were to paint.

Generic SF Troopers

Dino by Copplestone Casting, Rider VOID

Viridian Marines - VOID

VASA Commander X and 2 Black Legionaries - VOID

Two female Troopers from Mark Copplestone's brilliant Future Wars range and an Officer.
The Officer is painted by Steve Dean. I bought the mini to learn how Steve is doing his unique style. I tried to simulate this painting technique on the two female Troopers. So far I like it.
The minis are really nice. You can use them for Starship Troopers MI, Alien Colonial Marines or plain and simple as Imperial Guard for 40K.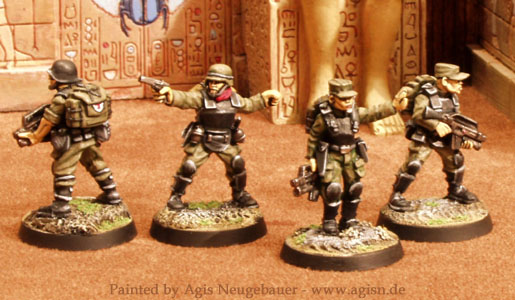 And I found another use for them. SG personnel!
Newest addition: SG 12. The minis are from the above mentioned Copplestone range, the backpacks are from TAG. (SG 12 is my new RPG campaign...)
Babylon 5
Some Babylon 5 miniatures. A Psi Cop and two Centauri. These are Harlekin Miniatures. A bit on the small side, but OK.

Rebel Minis

15mm Merka tank and modern US Infantry (both Rebel Minis), very fitting for a next generation IDF Merkava...