SuperFigs!!!
Heroic-scale (28 mm) superhero miniatures for a new era! SuperFigs from Four-Color Figures are designed for use with SuperSystem, the SuperFigs skirmish-level Superhero Miniature Battle Game, or with any Superhero role-playing game. I had the honour to playtest the 2nd edition which came out in May 2006.

The Red Patriot Movement is attacked by the Freedom's Five!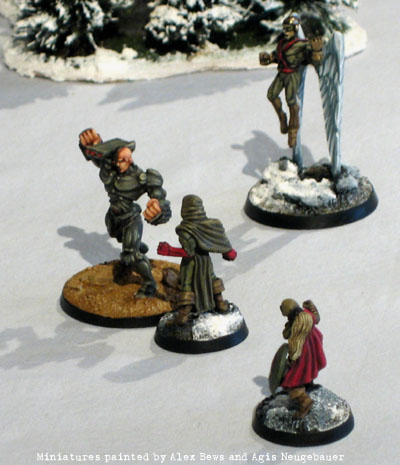 In my opinion a really great game becomes now even better. Very nice and fluid gameplay.
Alternate turn sequence are combined with opposed goal rolls. Not again one of those my turn, your turn game. Also very easy adaptable to nearly every setting.
Build in campaign and experience rules, plus an universal point system. To make things even better, very nice to the budget, since you can start playing with as little as 3 or 4 minis per site.
And for the 1st time you have all powers in one book. The game is also supported by some fantastic fanpages. Make sure to check out the Supersystem Annex. Every game aid you can imagine
Highly recommended!
The Head and Killbot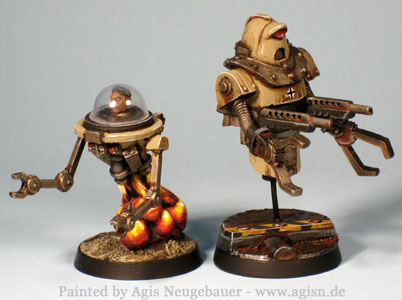 Two fantastic minis from the Superfigs Range: The Head [ZC5] and the Killbots [ZC6] are Free Agents in the 4-Colour world.
I choose to paint them in a retro-SF weird war paint scheme. The Killbot also received two MGs to give him some ranged punch...
Major Meteor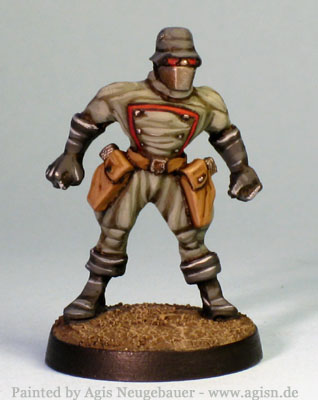 Another fantastic new mini from the Superfigs Range: Major Meteor.
Major Meteor is a cosmic hero. He got stranded on Earth after the Invasion, he wants to go back to the stars. meanwhile he is a hero on earth and has joined the galactic defenders.
I choose to paint him in a retro-SF weird war paint scheme.